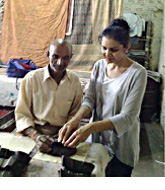 Behl Designs is the product of Priyanka Behl's love for people, places, and cultures. Growing up in India, Priyanka was constantly surrounded by textiles, skilled artisans, and colorful festivals and celebrations, all inspiring her use of colors and patterns in the custom works she creates today. Following her passion for cultures and different textiles, Priyanka worked in the textile industry, learning about silk woven textiles and developing a deep curiosity for other textiles, techniques of weaving, embroidery and printing.
Priyanka started her design career with scarves, but her passion and curiosity for textiles soon took over, and she expanded into textiles for home furnishings. Her curiosity has helped cement her knowledge of textiles, and led to her instinctively creative eye for using a diverse range of textiles to create finished products — everything from hand beaded window coverings to hand embroidered furniture.
Priyanka works with various artisans in India, where she travels and spends her time to oversee production, experiment with new textiles and techniques, and work side by side with the artisans to create the perfect patterns and textiles for Behl Designs.
While most of Priyanka's inspiration still comes from her home in India, living in Hong Kong for many years, as well as her many travels, continue to inspire her every day. Everywhere the road takes her, Priyanka finds beauty and inspiration in the colors and styles from different cultures, the busy streets across the globe, the people she interacts with, local foods, and anything else that catches her eye.
Come visit the Textiles & Design Studio
For interior designers, we offer textile swatches and our textiles by the yard in addition to all our other products.
For artists and artisans, we would love to discuss collaborations for production of your designs.
For homeowners and others, we welcome you to stop by and shop our textiles and swatches as well as exclusive items from our custom designed line of products including pillows, shower curtains, and more as they become available.
Appointments welcome! Contact us today!
HOURS
Monday through Friday 10 to 5
Saturday 10 to 2
LOCATION
30 Grove Street
Wellesley, MA 02482