Our Collection of Wallcoverings is under development now.
Shown are —
Left – (Background to foreground) Our textile patterns underway at our Textiles Studio: Mandala, Zesty and Grasscloth; Banyan, Mandala, and Network.
Center – The wallcoverings in Zesty, Mandala, and Grasscloth.
Right – Seen close up to reveal fine texture: Mandala, and Grasscloth.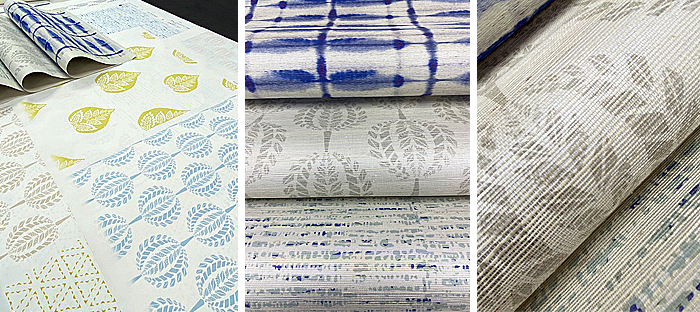 A word about our textiles products. Please read.
Due to the handmade nature of our products, natural variations in color, texture, and design are a part of the production process.
Due to variations in device color displays, we cannot guarantee that colors shown on screens are exactly representative of our products. Prior to purchasing, we recommend that you order swatches, available through us or our showrooms.