PILLOWS AND SHOWER CURTAINS
Behl Designs is your source for custom-ordered pillows made to size, available in ALL of the patterns and colors of our Textiles Collection.
Whether it's a single pillow, or a selection of pillows in assorted sizes, patterns, and colors exclusively from our textiles collection, we can create and deliver on your pillow dreams!
Our shower curtains are available in a limited edition of hand block printed colors and patterns. Ask us for details!
Shown —
Upper Left – 18 inch pillow. Pattern: Mandala, Color: Shadow.
Lower Left – 21 inch pillow. Pattern: Kantha, Color: Cloud.
On Right – Shower Curtain. Pattern: Grid, Color: Silver Smith.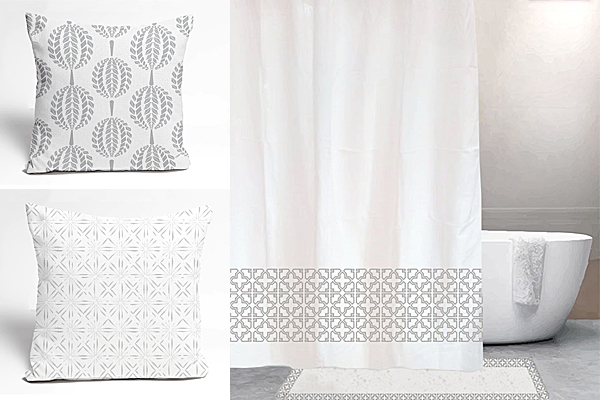 — If you are interested in ordering any of our custom pillows or shower curtains —